Wilderness First Aid Kit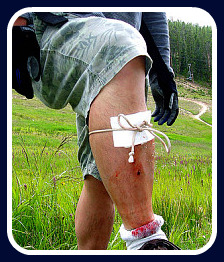 If you are heading out to the wild blue yonder you will need a wilderness first aid kit.
We have put together a wilderness first aid kit checklist which is the minimum of what you should be taking with you. It will help you to put together a first aid kit that will tackle many injuries and ailments that might come your way.
If you are going on an extended trip, travelling in uncertain weather or unfamiliar territory, you will need to add additional supplies.
When going out into the wilderness you need to research the area you will be going into. Some areas may have dangerous or venomous wildlife including snakes and spiders or harmful plants.
Other areas may have non drinkable water that could harbour nasties such as giardia or the like. Then if this is so you will need to take fresh water, a filter or iodine tablets.
Wherever you intend to go a wilderness first aid kit is a must.
Let's look at what could be in a Wilderness First Aid Kit:-
A good comprehensive outdoor first aid book.
Over counter medications:
Your preferred pain relief tablets or capsules.
Antibiotic Ointment or powder.
Antihistamine to control mild allergic reactions.
Antiseptic - We like Betadine individually wrapped swabs as you can either wipe a wound over or squeeze the swab so droplets can be applied to a wound and they take up such little space.
Burn gel with Aloe vera is our preference. Aloe Vera aids in healing, pain relief, has anti-inflammatory properties, help prevent blistering and scarring.
Hydro-cortisone cream for skin inflammation and rashes.
Stings and Bites cream - We prefer one with a local anaesthetic that helps reduce the itchiness of bites.
Cold sore cream - if you are prone to cold sores sunlight and sunburn can trigger them so take some cold sore cream. Zorvirax is our preference.
Electrolyte replacement powder or dissoluble tablets - for when you are in humid temperatures and sweating out your bodies salts and minerals. Or if you suffer from vomiting and/or diarrhoea.
Antiseptic wipes or gel - for cleaning your hands before touching open wounds. Having a separate bottle or wipes, for using after you have been to the loo as such, is a great idea too.
Other contents to add
to a wilderness first aid kit:
Other things to consider when putting together a First Aid Kit:

If you are going with a group you will need to take into account other team members medical requirements or ailments. Be familiar with any of their special medical needs like asthma or allergies to bee-stings. If anyone in the group has allergies that trigger an anaphalactic reaction then an epi-pen will need to be carried. It is very important that more than one person knows how to use it.
When an accident or injury occurs you may not have much time to read a manual while trying to give first aid to an injured person. We at FirstAidanywhere.com recommend you do a Wilderness First Aid Training Course to learn what first aid challenges you may encounter and how to treat them.
The course you choose should include recognition of hypothermia and hyperthermia, dehydration, fever, infection and shock as well as how to stop bleeding , how to stabilise a fractured limb , and how to treat burns, cuts and scrapes, snake, spider, insect bites as well as other injuries.
We have said it on other first aid kit checklist pages but will say it again, never be complacent and always take a wilderness first aid kit with you. The one time you don't will be the time you need it.


Hope you enjoy your adventure.

Now you have worked out what you should take in your wilderness first aid kit learn:

Basic First Aid Instructions

Performing CPR

First Aid for Cuts and Scrapes

First Aid for Fractures

First Aid for Nosebleeds



Go from Wilderness First Aid Kit to Homepage



---
Photo courtesy of Greg Younger